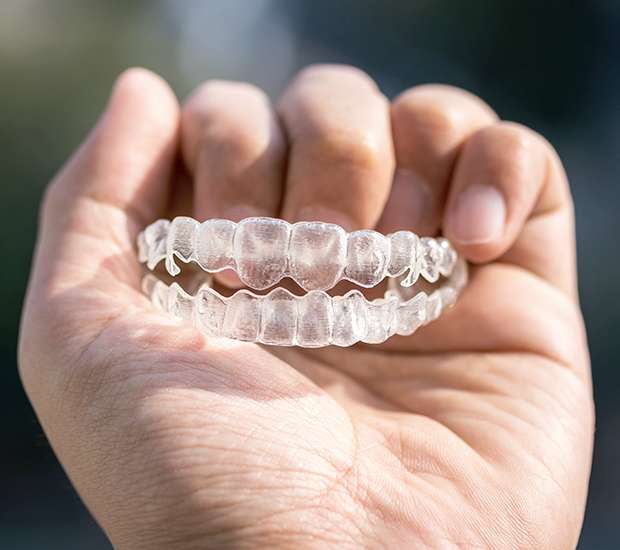 Is Invisalign Teen Right for My Child
Forest Hills, NY
At Gentle Touch Dental Care, we offer Invisalign Teen® as a solution for straightening teeth. Parents may call our dental office looking for information, wondering if Invisalign® can sufficiently straighten their child's teeth. Orthodontics is familiar and still effective but Invisalign® is relatively new and most parents never had access to this solution. If you are in this situation, the best way to find out about your child's options is to call (718) 924-2387 and schedule an appointment. We are located in the Forest Hills and are happy to answer any questions that you may have.
Here are some that we are asked on a regular basis:
Can Invisalign Teen® actually straighten teeth?

Yes, it most definitely can. Teeth are moved using consistent pressure. With braces, the pressure is applied using metal brackets and wires. Invisalign® uses a series of clear aligners that slip around the teeth like retainers. They work as effectively as braces to solve mild to severe cases of crooked teeth and alignment issues. The key is that you must bring your child to a dentist that is trained in how to administer the Invisalign® treatment.

Are they old enough?

In order for your teen to wear Invisalign® they need to have all of their permanent teeth. At Gentle Touch Dental Care, we can examine them and let you know whether or not it is the right time to get started. Most of the time, we will recommend Invisalign® starting in high school.

Is my teen responsible enough?

Any time that someone uses orthodontics to straighten their teeth, there is a level of responsibility necessary to ensure that the process goes smoothly. In most cases, teenage patients are incredibly responsible and statistically, most teens will wear their aligners for 21 hours a day. However, there are cases in which the teenage patient does not wear the aligners properly and faces issues because of it. If your child tends to be more absent-minded than not, traditional braces may be a better solution because they are permanently secured to the teeth and you only need to remind them to brush and floss carefully. With Invisalign Teen®, there are significant conveniences that are associated with this solution and the biggest ones come from the fact that the aligners are removable. Teens love this! They can act, behave, look, and eat like normal because the aligners come out. At Gentle Touch Dental Care, we encourage this convenient solution for our teenage and adult patients. However, knowing that something comes out, also means that they have to remember to put it back in. That is where the responsibility piece comes into play. If they lose an aligner, it can be replaced. The challenge is that if they simply forget to wear it, the process will not work. For this reason, it is important to evaluate the responsibility level and overall personality of your child to determine if they are ready. If you live in the Forest Hills area, bring them in for a consultation. We can have a heart to heart, let them know what the treatment entails and see if we can get them to commit to wearing the aligners. They may surprise you by how committed they are, once they see this as an alternative to traditional braces.

I was told that Invisalign will not work for my teen. Should I get a second opinion?

Absolutely. At Gentle Touch Dental Care, we can evaluate and examine your teen to let you know whether or not they are a good candidate for Invisalign®. When you meet with a dentist, it is difficult to know how much training they have on this particular product. While your general dentist may do an excellent job with preventative care or restorations, Invisalign® may be new to their practice. This is why you should always seek a second opinion when told that you or your child cannot have a specific treatment you are interested in.
How do I get started with Invisalign®?
The process is simple. Call 718-924-2387 and schedule an appointment with our dental office. We can examine your teen's teeth, let you know if they are ready for Invisalign® now, or when they will be. Next, we will discuss all of the steps involved in the process with you and your teen, so that everyone understands what to expect. There will be some paperwork to sign and financial considerations to discuss with our office manager. If you need help financing the treatment, let us know now so that we can help you find a solution.
Next, we will schedule a visit to take digital images of your teen's mouth, along with measurements. These images will be uploaded into the computer so that we can begin to project out the treatment plan. Step by step, we plan for how the teeth will move from where they are today to where they are supposed to be. This takes time but is critically important for ensuring that they move in a set and steady pattern. This information will then be sent to the Invisalign® lab where they will produce a series of customized aligners. Each aligner is designed to move your teen's teeth. One aligner will make a slight difference in their position but when worn in a series, they will move their teeth into a perfectly straight position. Once all of the aligners have been created to our specifications, they will be delivered in a series for your teen to wear and then switch out at home. Typically, each aligner is worn for two weeks until it becomes loose and then needs to be switched out for the next one in the series. By following our careful instructions and keeping regularly scheduled appointments, your teen can have a beautiful smile in no time.
To learn more about Invisalign Teen® and whether it is right for your child, call (718) 924-2387 and schedule an appointment with our Forest Hills, New York dental office. At Gentle Touch Dental Care we can answer all of your questions, ensure that their treatment goes smoothly, and help your teen to gain a bright and beautiful smile.
Questions Answered on This Page
People Also Ask
Definition of Invisalign® Terminology
Aligner Trays

With Invisalign® treatment, the patient will receive a series of aligner trays and swap out each one for the next one in the series every two weeks in order to gradually straighten the teeth.

Blue Compliance Indicator (Invisalign® Teen)

The blue compliance indicator is a small blue dot on the aligners that will fade from blue to clear in order to indicate if the patient is wearing the aligner for the proper amount of time and where the patient is in the Invisalign® process.

ClinCheck® Software

ClinCheck® software allows professionals to map out the straightening process the patient's teeth will go through with Invisalign® in great detail.

Gum Line

The gum line is the line in the mouth where the teeth and gums meet. If a patient struggles with gum recession, then the gum tissue around the teeth may begin to wear away.

Incisal Ridges

Incisal ridges are the portion of the crown of the tooth that makes up the incisal portion and can be a direct cause of overbite if they are extended too far.

iTero Element® Scanner

An iTero Element® scanner allows professionals to create a 3D image of the patient's teeth in minutes and predict what it will take to move the teeth into proper alignment.

Malocclusion

Malocclusion is the condition in which the upper and lower teeth do not meet properly when the bite is closed. Conditions of malocclusion can include overbite, underbite, crossbite and open bite; all of which are treatable with Invisalign®.

Overbite

An overbite is a type of malocclusion that occurs when the upper teeth jut out over the lower teeth, covering them and causing other issues.

Polyurethane Resin

Polyurethane Resin is a USP Class VI medical grade, high molecular weight compound that makes up the Invisalign® aligners.

SmartForce Attachments

SmartForce attachments are small attachments that professionals place on the patient's teeth before placing aligners to help move the teeth.

Smart Track® Material

Smart Track® material is in Invisalign® aligners to increase comfort, improve control of movement, increases the speed of treatment and applies a gentle force to the teeth over time.

Smile-Scan

Smile-Scan analyzes the way a patient smiles by measuring the position of the mouth and eyes before giving a score.

Vivera® Retainers

Vivera® retainers are a type of retainer that consists of clear plastic material and helps to maintain orthodontic corrections after a treatment.
Back to top of Is Invisalign Teen Right for My Child?
Related Posts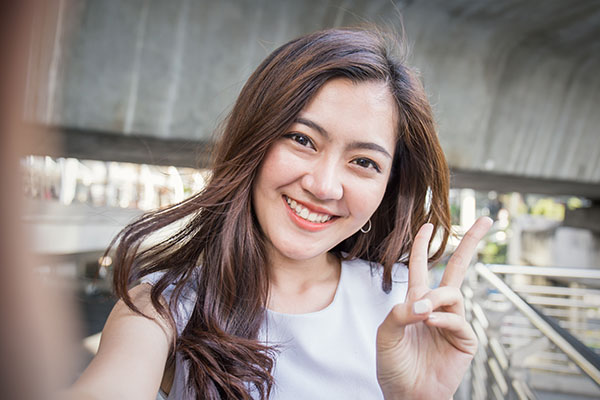 An effective and yet inconspicuous way to straighten the teeth, Invisalign® gives individuals the flexibility to enjoy a wide range of foods while undergoing the teeth straightening process. When compared to traditional braces that come with a long list of what can be eaten and what needs to be avoided, removable alignment trays bring more…
Explore additional topics covered on our website: